Our Trades
Technology
Utilising a combination of advanced intelligence and wagering methodologies derived from our proprietary analytics systems, as well as market intelligence gathered in real-time, our team specialises in the Hong Kong horse racing market.
Horse Racing Database
The Mark Read horse racing database is global and employs full time in-house trained data analysts who continually maintain its content.
The database holds the most incisive performance history of the thoroughbred racing population in Asia and Australia over the past 25 and 35 years respectively.
The defining asset is the Weight-Speed Ratings Hybrid developed by Mark Read. This intellectual property has maintained him as indisputably Australia's best market maker for four decades. Today, this intellect is employed to create applications for trading on Hong Kong racing.
Training in the IP has been applied by leading professionals in a range of racing and wagering disciplines:
John Size: Hong Kong Premiership Trainer (premiership in first HK season 2001 plus 11 since). John regards Mark as one of "the three greatest influences in my life" (interview The Age Newspaper 2002)
Industry experts in major wagering companies: Ladbrokes, William Hill, Hong Kong Jockey Club, Pinnacle Sports and Sportsbet (Paddy Power)
The intellectual property and personnel includes:
a team of professional racing analysts headed and mentored by Mark Read in the production of a quality racing product
experienced software development staff, well versed in the theory and practice of predictive performance systems and wagering product requirements; and
Mark Read's personal experience and expertise, which are widely acknowledged by racing professionals in the Australian and Asian region
The Smarts
The horse racing database has been maintained and continually developed over 40 years and provides comprehensive data and analysis on Hong Kong, Singapore, Malaysian, Australian, New Zealand, United Kingdom, Irish, and United States racing. It provides information on breeding, horse ratings, individual horse physique, trackwork and running comments, statistics, jockeys, trainers, sectional times, standard times, individual sectional splits and track speed determination integrated with video.
Bespoke form guides contain horse ratings, computer prices, race maps and historical analysis of equivalent prior races run over the last 35 years.
The database records times for all individual racetracks, distances and classes. Standard sectional splits for particular racetracks, distances and classes and automatic download of sectional splits of individual horses is provided.
Each is placed through proprietary simulation forecast software which runs the race 25,000 times to apply the various variables and historical analysis stored. The output is 2 sets of prices based on independent rating systems for each event. These prices are automatically fed into a pricing module enabling analysts to set the market and facilitate market change by combining the computer-generated prices with real-time market movements from the opening of a book through to the commencement of a race.
This system is totally interactive and evolutionary. The simulated forecast methodology graduates to a deterministic simulation (What–If Scenario Analysis). Thereby users can determine in real time the true value of a proposition in any market and manage risk and/or trade accordingly.
The Art and Practice of Wagering
The art is to know what the true price value is, and the practice is a consistent application of this value over time.
Database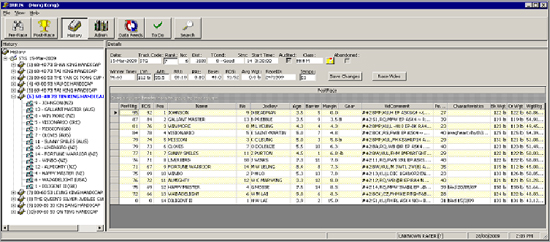 Speed Map

Bespoke Form Guide